Infant Research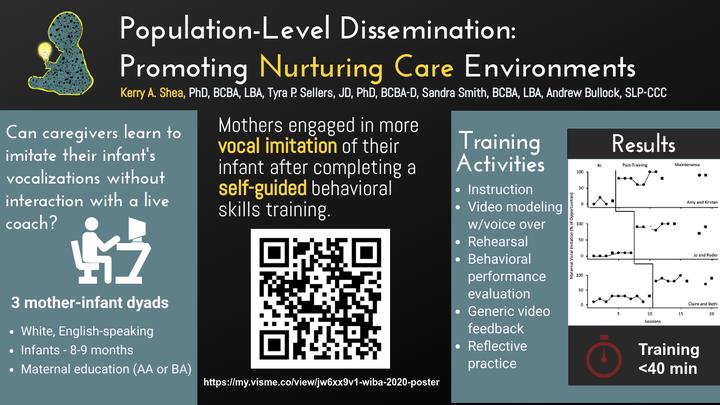 Teaching caregivers to imitate their infant's vocalizations
Did you know responsive interactions are extremely supportive of infant development?
Responsive interactions mean that you respond to your baby's behavior. While this may seem like a simple thing, the contingent interactions can help your baby learn that their behavior is having a predictable change on their world. Awareness of the contingencies may support infant learning about other patterns in the environment.
About our project
Check out more information about our study where we taught caregivers to imitate their infant's interactions.
Virtual Conference Poster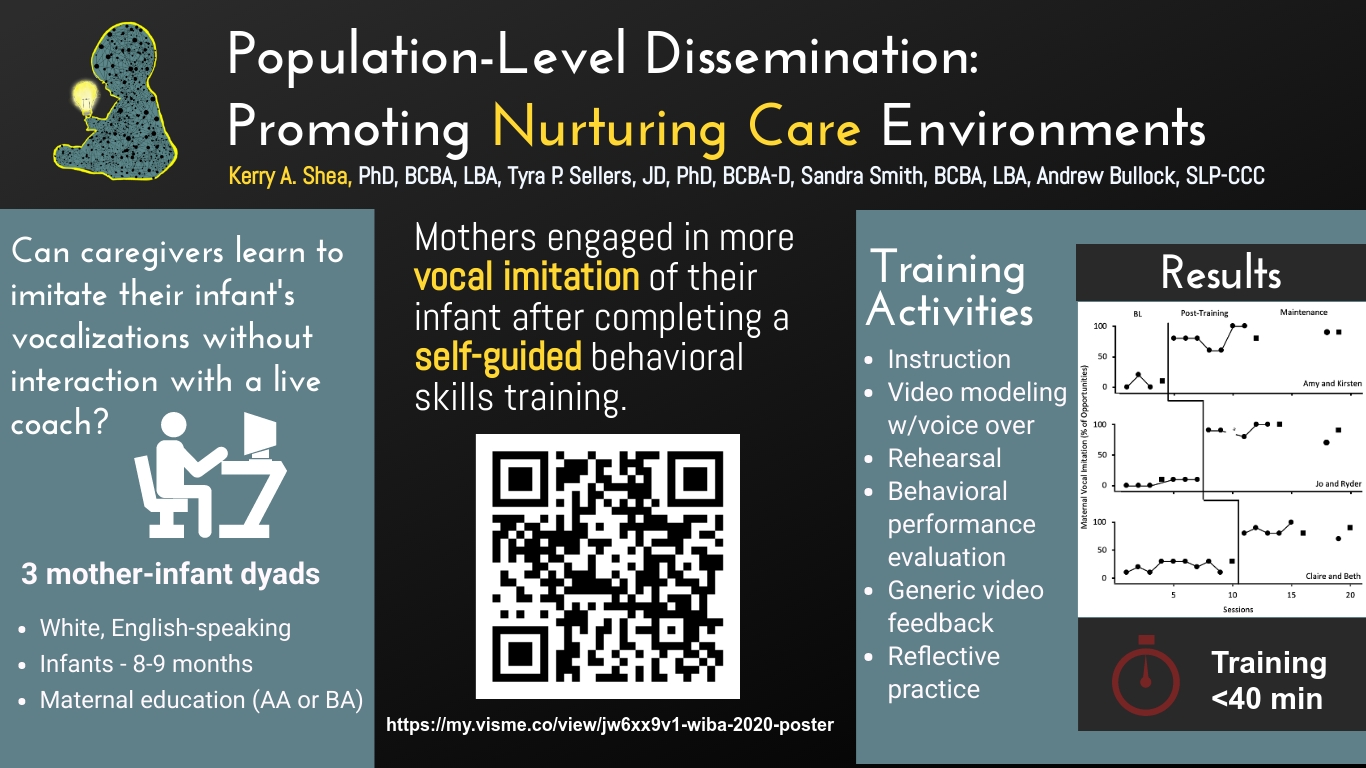 Interactive Poster
Made with Visme Infographic Maker
JABA Publication
Check out our publication in the Journal of Applied Behavior Analysis

Learn more
Here is a list of more studies related to infant learning!
Click to expand

**Empirical studies of contingent imitation** Hirsh, J. L., Stockwell, F., & Walker, D. (2014). The Effects of Contingent Caregiver Imitation of Infant Vocalizations: a Comparison of Multiple Caregivers. The Analysis of Verbal Behavior, 30(1), 20–28. https://doi.org/10.1007/s40616-014-0008-9 Pelaez, M., Virues-Ortega, J., & Gewirtz, J. L. (2011). Reinforcement of vocalizations through contingent vocal imitation. Journal of Applied Behavior Analysis, 44(1), 33–40. https://doi.org/10.1901/jaba.2011.44-33 Pelaez, M., Borroto, A. R., & Carrow, J. (2018). Infant vocalizations and imitation as a result of adult contingent imitation, 23(1), 81–88. Goldstein, M. H., & Schwade, J. A. (2008). Social feedback to infants' babbling facilitates rapid phonological learning. Psychological Science, 19(5), 515–523. https://doi.org/10.1111/j.1467-9280.2008.02117.x **Bi-directional influence caregiver-infant relationship** Pretzer, G. M., Lopez, L. D., Walle, E. A., & Warlaumont, A. S. (2019). Infant-adult vocal interaction dynamics depend on infant vocal type, child-directedness of adult speech, and timeframe. Infant Behavior and Development, 57. https://doi.org/10.1016/j.infbeh.2019.04.007 Miller, J. L., & Gros-Louis, J. (2017). The Effect of Social Responsiveness on Infants' Object-Directed Imitation. Infancy, 22(3), 344–361. https://doi.org/10.1111/infa.12156 Gros-Louis, J., West, J. M., Goldstein, H. M., & King, P. A. (2006). Mothers provide differential feedback to infants' prelinguistic sounds. International Journal of Behavioral Development, 30(6), 509–516. https://doi.org/10.1177/0165025406071914 Vallotton, C. D. (2009). Do infants influence their quality of care? Infants' communicative gestures predict caregivers' responsiveness. Infant Behavior and Development, 32(4), 351–365. https://doi.org/10.1016/j.infbeh.2009.06.001 Mason, G. M., Kirkpatrick, F., Schwade, J. A., & Goldstein, M. H. (2019). The Role of Dyadic Coordination in Organizing Visual Attention in 5-Month-Old Infants. Infancy, 24(2), 162–186. https://doi.org/10.1111/infa.12255 Elmlinger, S. L., Schwade, J. A., & Goldstein, M. H. (2019). The ecology of prelinguistic vocal learning: Parents simplify the structure of their speech in response to babbling. Journal of Child Language, 1–14. https://doi.org/10.1017/s0305000919000291 Gros-Louis, J., West, J. M., Goldstein, H. M., & King, P. A. (2006). Mothers provide differential feedback to infants' prelinguistic sounds. International Journal of Behavioral Development, 30(6), 509–516. https://doi.org/10.1177/0165025406071914 Goldstein, M. H., & West, M. J. (1999). Consistent responses of human mothers to prelinguistic infants: The effect of prelinguistic repertoire size. Journal of Comparative Psychology, 113(1), 52–58. https://doi.org/10.1037/0735-7036.113.1.52 **Contingency detection literature** Tarabulsy, G. M., Tessier, R., & Kappas, A. (1996). Contingency detection and the contingent organization of behavior in interactions: Implications for socioemotional development in infancy. Psychological Bulletin, 120(1), 25–41. https://doi.org/10.1037/0033-2909.120.1.25 Northrup, J. B. (2017). Contingency detection in a complex world. International Journal of Behavioral Development, 41(6), 723–734. https://doi.org/10.1177/0165025416668582 Dunham, P., & Dunham, F. (1990). Effects of mother‐infant social interactions on infants' subsequent contingency task performance. Child Development, 61(3), 785–793. **Still-face paradigm** Youtube video example of the still-face paradigm (Sr phase, extinction phase, return to Sr phase) https://www.youtube.com/watch?v=apzXGEbZht0 Tronick, E., Ricks, M., & Cohn, J. F. (1982). Maternal and infant affective exchange: Patterns of adaptation. In Emotion and Early Interaction (pp. 83–100). Goldstein, M. H., Schwade, J. A., & Bornstein, M. H. (2009). The value of vocalizing: Five-month-old infants associate their own noncry vocalizations with responses from caregivers. Child Development, 80(3), 636–644. https://doi.org/10.1111/j.1467-8624.2009.01287.x Franklin, B., Warlaumont, A. S., Messinger, D., Bene, E., Iyer, N., Lee, C., … Lee, C. (2014). Effects of parental interaction on infant vocalization rate, variability and vocal type effects of parental interaction on infant vocalization rate, variability and vocal type. Language Learning and Development, 10(3), 279–296. https://doi.org/10.1080/15475441.2013.849176 **LENA Research** Gilkerson, J., Richards, J. A., & Topping, K. (2017). Evaluation of a LENA-based online intervention for parents of young children. Journal of Early Intervention, 39(4), 281–298. https://doi.org/10.1177/1053815117718490 Gilkerson, J., Richards, J. A., Warren, S. F., Montgomery, J. K., Greenwood, C. R., Oller, D. K., … Paul, T. D. (2017). Mapping the early language environment using all-day recordings and automated analysis. American Journal of Speech-Language Pathology, 26(2), 248–265. https://doi.org/10.1044/2016_AJSLP-15-0169 Richards, J. A., Gilkerson, J., Xu, D., & Topping, K. (2017). How much do parents think they talk to their child? Journal of Early Intervention, 39(3), 163–179. https://doi.org/10.1177/1053815117714567
Related